A Brotherhood of Excellence
Excellence Boys K-8 is a school community dedicated to brotherhood. Under the guidance of passionate teachers and leaders – including many male role models who are also alums of our school and of HBCUs – you'll see your child's self-love and inner strength soar. Even more, our scholars learn that they can change the world for the better, as they prepare for success in college and beyond.
Academics & Culture
Excellence in Academics
With a longer school day and school year, our scholars benefit from extra instructional time in academic foundations like reading, writing, and math – as well as joyful learning experiences throughout every day, including an array of enrichment and extracurriculars. Our scholars are guaranteed enrollment at an Uncommon high school, where students achieve a 96% college-acceptance rate across our network of schools.
Excellence in Character
The spirit of brotherhood shines in our school culture. Within an affirming community, boys meet with and learn from teachers and leaders who share their backgrounds, gain experience connecting with their emotions, and actively support one another's goals. Our school values – including brotherhood, justice, courage, and respect – are reflected in uplifting cheers and scholar highlights. With Excellence Boys, your child will develop the confidence to navigate the journey to college and reach his goals.
Excellence in Teaching
Excellence Boys attracts fiercely devoted teachers who go above and beyond to help our scholars grow and achieve outstanding results. In fact, many of our male teachers collaborate to develop our school's unique all-boys curriculum. In turn, we are committed to helping our teachers and school leaders develop their craft, providing regular feedback and support as well as meaningful professional learning throughout each school year.
Facilities Designed for Excellence
Our beautiful, standalone building enhances student safety while providing an environment in which students build a strong sense of community as they progress throughout grades K-8. As you walk our halls, you'll see hundreds of inspirational quotes from leaders of color. Our stunning library will inspire your student's curiosity, while our full-sized gymnasium and incredible rooftop playground promote joyful play and overall wellbeing.
Excellence Boys alum, Elijah Megginson, regularly revisits his alma mater to inspire the next generation of Excellence. Elijah is currently enrolled at Morehouse College and has interned at The New York Times, BET, and NBA.
Watch as Elijah discusses what it means to return to Excellence Boys as a Morehouse Man.
Excellence Boys Elementary Academy Principal
Jaz Grant
Jaz is a principal with extensive experience leading schools with both outstanding academics and a welcoming, affirming culture.
Jaz began his career as a teacher at Excellence Boys. He went on to serve as a Principal Fellow at Uncommon Schools North Star Academy – Westside Park Elementary in Newark, NJ. He was then selected to be founding Principal of Uncommon Schools NYC's Ocean Hill Elementary. Under his leadership, OHES grew to become one of Uncommon NYC's highest performing schools.
Jaz holds a B.A. in English from Morehouse College and a M.A. in Teaching from the Relay Graduate School of Education.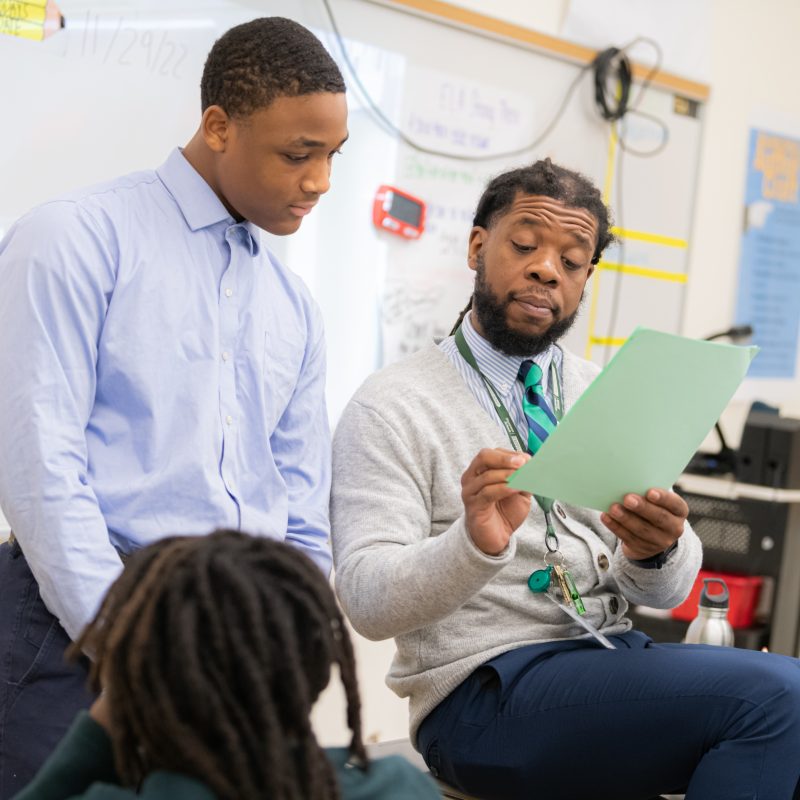 Excellence Boys Middle Academy Principal
Quinterrence Bell
Quinn has been serving the students of Excellence Boys since 2018, first as the Principal of the elementary school and now the middle school.
Previously, he was a Middle School Reading Teacher and Instructional Coach at Uncommon Schools NYC's Brownsville Collegiate Middle School and Outreach Recruiter for the Uncommon Schools Brooklyn region.
Quinn holds a B.A. in English from Morehouse College and a M.A. in Teaching from the Relay Graduate School of Education. He currently attends Vanderbilt University where he is obtaining his Doctorate in Educational Leadership and Policy.
Partnering with Families
We value families as their child's first teachers, and strive to partner with parents in ways that honor your important role. Our doors are always open, from welcoming parents into our schools to fostering consistent and clear communication with teachers. Don't be surprised if you receive a text with a photo and update on your scholar's progress! We also host a series of events throughout the school year aimed at building community with and among our families.